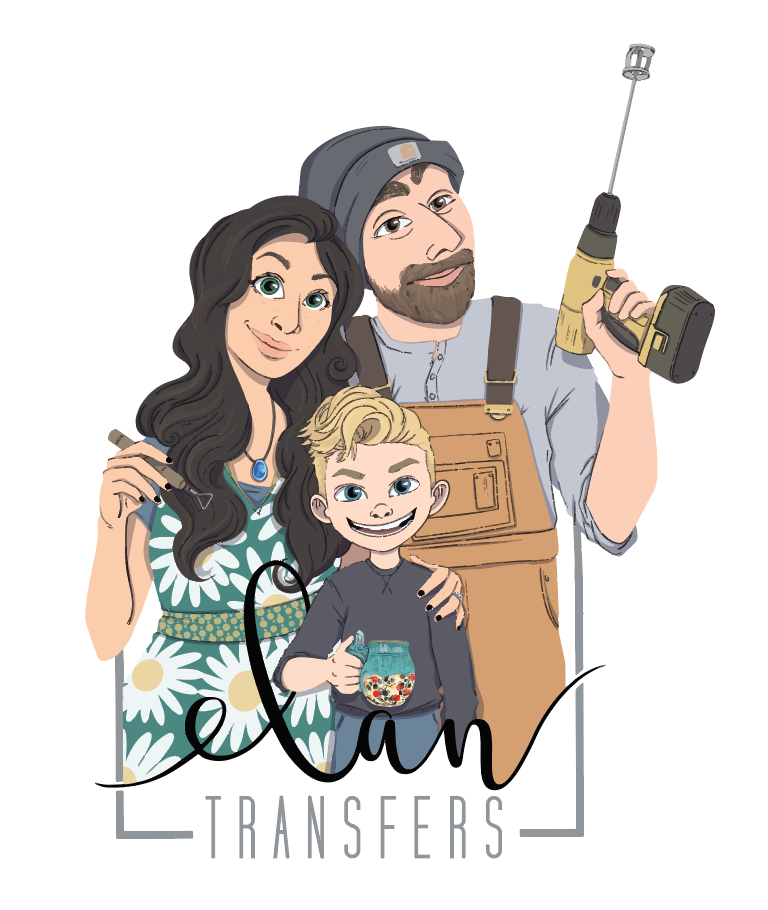 About Elan Transfers
Elan Transfers provides fun, unique, and high-quality underglaze decals for contemporary ceramic artists to use in their own studios. After years of using custom decal designs on my own work, people began reaching out asking where they could get fresh transfer designs to use as well. So, in 2018 I began working with graphic designers and fellow artists to create new designs with the contemporary ceramicist in mind. After our second year in full swing, Elan Transfers now offers over 300 different designs in a range of colors! From our own handmade pottery to our specialty transfers we have a fine attention to detail and hold customer service and craftsmanship as our primary goal.
We hope you enjoy using our Elan Transfers and would love to see what you create with them!
Account Information
If you have an account with Elan Transfers, your account still works!
If you have an account with Elan Pottery ONLY, this account will no longer work and you will need to make a new one here.
With our new layout, we are combining all of our brands so you will only have one account and one seamless checkout.
Shipping
We ship worldwide and shipping will be calculated at checkout based on the distance so you can see what will the cost will be before checking out. We offer USPS First Class Package (insurance not available) and USPS Priority Mail (comes with up to $50 insurance). We recommend UPS as the US mail is very delayed at the moment and DHL for international customers. You will receive a shipping confirmation email after checkout with your tracking information. Customers are responsible for entering the correct shipping address at checkout including any apt or building numbers. 
Attention: The United States Post Office processing facilities are still experiencing significant shipping delays. USPS packages of any class are typically taking 2-5 weeks to arrive despite that they are saying 1-5 days. We have no control over shipping times once your package leaves our studio and highly recommend selecting UPS (not USPS) for shipping as it is a far more reliable option at the moment. We are happy to replace your order if it is lost but as of right now orders are not being considered lost until they have been outstanding from more than 8 weeks or 16 weeks internationally. We appreciate your understanding and patience. (updated June 2021) 
My Package says "In Transit/Arriving Late" or it has Not Been Updated for days / weeks. 
- Due to backlog from Covid and employee shortages USPS is experiencing huge delays in shipping. Some post offices have reported that they have stopped scanning packages all together. This means your packages will likely be delayed for weeks and may not show any new data on the tracking in the mean time. 
We are aware how frustrating this can be and are asking for your patience while waiting for your package to arrive. If the transfers you ordered are time sensitive we we recommend choosing UPS for your shipping method. 
My Package says it was delivered but I don't have it?
- Normally when this situation arises it was either accidentally with a neighbor or delivered to the wrong address. Additionally since we ship in 18" long tubes sometimes mail carriers find unique places to leave them so it might be tucked behind a plant or behind a door. If these options do not turn your package up, the issue can usually be resolved by contacting your local post office or mail carrier and let them know you are missing the package. You can ask them to track the GPS coordinates of where it was delivered so if it was accidentally delivered to a neighbor or the wrong address the post office should be able to see where it is and get it rerouted to you. Additionally, a few customers have stated sometimes their mail carrier will "prescan" the package by accident so the tracking will say it was delivered but it ends up arriving in the next day or two. If after 8 weeks (domestic) / 16 weeks (international) from the date of shipping your package does arrive to you we will refund or replace the order in full.

Lost Mail 
- If a package has been declared "lost" by the shipping carrier or it has not arrived to you within 8 weeks domestic / 16 weeks international  (from the date of shipping) please contact us elantransfers@gmail.com with your name, shipping address, and order number and we will make sure to investigate and if necessary exchange or refund you for the order. 
De Pottenbakster
Netherlands
Hot Clay Ltd
United Kingdom
Sirens Pottery n Supplies
Australia
Great White North Pottery Supplies
Canada, Ontario
Keramik Wolke
Germany
Maroon Mountain Pottery Supply
Canada, BC
P&J Ceramics (1995) ltd
Canada, Alberta
Clay Temple Pottery
Australia
Shopping
We take all major credit cards online and in person. They will be processed through Shopify and please be assured we do not save your credit card info on our website for security reasons, so it will need to be entered each time you purchase from our online shop. You can also check out online using PayPal, Apple and Google Pay. 
OurRewardsprogram is a loyalty program that you sign up for for free by clicking the "Elan Points" button on the right hand side of our website or the "Rewards" tab at the top of the page. A box will appear on the right hand side about mid way down the page where you can create an account to start earning! Click on the "Ways To Earn" tab to see the things you can do to earn points for use towards coupons. freebies, and more on our website. You will immediately start earning one point per dollar spent on our website towards your point total as well! We also offer you a unique url link to send to your friends who want to try Elan Transfers for the first time and when they make their first order of $25 or more you both will be receive a coupon for a free enamel pin of your choice from our website. After you accrue some Elan Points you can click on the gift box icon "Ways To Redeem" in the Rewards box and choose what you would like to spend your Elan Points on. It's super easy and lots of fun to collect and spend points, clickHEREto get started! 
We hope you love our decals but it you don't please email us and let us know! You can send unused sheets back to us in their original condition and packaging within 2 weeks and we will refund your purchase price minus shipping and a $10 restocking fee. If your transfers arrive damaged please contact us within 1 week of arrival and we will give you details on how to return them for credit or exchange. 
We are so excited about the popularity of our designs and do our best to keep things in stock but  keeping up with the demand can be difficult depending on the time of year. There is no set schedule for website restocks but if you would like to be notified you can sign up for email notifications on the home page of our website.  Turning on notifications for our Instagram and Facebook posts is also a great way to keep tabs. Our goal is to provide you with the highest quality decals in the industry and be assured we are hard at work making more and coming up with new exciting designs! Speaking of new designs... we release them a few times a year, usually in seasonal batches.
Yes, we happily do custom decals. Here is some info on the prices for both types we offer.   
Underglaze Tissue Transfers - (FOOD SAFE) There is a $100 charge for the original screen plate of your design to be made. They last for a very long time so you shouldn't need to worry about having this cost more than once. There is a $50 set up fee to make your file ready for the plate to be made. Any other design work would be additional. After that there is a minimum of 50 sheets per color / per design and they have a usable area of about 19" x 13" each and you can design the area however you like keeping in mind what will transfer well and is not too detailed or having too thin of lines. You would get discounted pricing on these of $5 per sheet. If you are looking for more than one color per sheet (max 4), there is a separate screen and setup fee per color as each color needs its one screen and the price per sheet is $7.50. Available options are black, red, green, blue, turquoise white, yellow, orange, pink. I'll need a vector image if possible and they will likely take 3-4 months from start to finish. 
Overglaze Water Slide Decals - (FOOD SAFE) There is a $15 set up fee and any design work will be additional. If you do not have a specific design you want you can just request a theme and I can work with that as well. The sheets can have 7.5" x 10.5" or 15" x 10.5" of usable decal space. The 1/2 sheets are $25 - $35 each depending on the amount of color and spacing of designs. Discount pricing for multiple sheets. These will print in full color although they are semitransparent and work best on white or light-colored glazes. Exceptions - pure white will be clear, pink will print more of a pinkish coral color, turquoise will print more of a blueish mint color, very vibrant colors will print slightly more muted, no neons, no metallics. Natural colors work best. Since we use a food safe, very durable, glossy, flux coating on top of the decals we recommend you cut close to the image as possible to avoid a slight raised line around the image. These can take 1 - 2 weeks from start to finish. 
If you just want to adjust one of our overglaze decal sheets that we currently offer please email me with your requests, usually this can be done for a nominal adjustment fee. 
Yes! If you are a retailer, interested in carrying Elan Decals, Transfers or our Elan Enamel Pins please send us an email at elantransfers@gmail.com and include a copy of your resale certificate and a link to your website. We have limited oppertunities for wholesale depending on where you are located so please also include your location and if you will be selling in person or online. 
De Pottenbakster
Netherlands
Hot Clay Ltd
United Kingdom
Sirens Pottery n Supplies
Australia
Great White North Pottery Supplies
Canada, Ontario
Keramik Wolke
Germany
Maroon Mountain Pottery Supply
Canada, BC
P&J Ceramics (1995) ltd
Canada, Alberta
Yes! You should notify the owner of the studio ahead of time and let them know you are planning to use our transfers in their studio to make sure they are ok with the process. They will simply need to apply their clear glaze over top of your finished piece as they would normally do with other painted pieces.
Product Questions
Yes! There is no lead in any of our underglaze transfer or overglaze decal sheets and they are all food safe when fired according to the directions on ourinstruction page. 
Underglaze Transfers are recommended for green and bisqueware ceramic pots only. Overglaze Decals are recommended for use on previous glazed fired ceramic pieces and work best on a white or light colored glaze.
If you are a maker of other mediums you are welcome to try them out for your project, we offer a sample pack that you might find helpful however as we only work in the ceramic medium we are not sure of their results in other applications. Our products should never be used on edible food products such as cupcakes or cookies.
Please visit our INSTRUCTIONpage for a detailed application process. 
Underglaze Transfers are sheet of rice paper that has been individually silk screened with ceramic underglaze and then made available for you to apply like a temporary tattoo to your ceramic pieces. These sheets are typically one or just a few colors and come in with a 19" x 13" usable area. They can be applied to wet, leather hard, or bisqued pottery and need to be fired with a clear or translucent zinc free glaze on top. If you are glaze firing to a temperature exceeding cone 6 a glaze on top glaze coat is not necessary. Since these are made from underglaze they act similar to other underglazes and can be layered with underglazes. For more detailed instructions on the application process click HERE. 
Overglaze Decals are full color water slide printed ceramic decals. These are printed on a special printer using ceramic toner and heat sealed with a ceramic flux top coat making them very durable and food safe. They are applied in a third firing on top of your already glazed fired piece to a temperature of 1616 degrees F. They work best over a light or white glaze as they are semitransparent and will be affected by the glaze color they are applied on. They work best on a glossy glaze and will show a slight line where they are cut out so we recommend cutting them as close to the design as possible. For more detailed instructions on the application process please click HERE.
Yes! The application process is a bit different for each process and we highly recommend experimenting but our transfers can be applied to wet, leather hard, and bisqued pottery. Please view our video tutorial page for some helpful videos and or our application instruction page for more detailed instructions. 
Our overglaze decals can only be applied to previously glaze fired pottery.
Our transfers act as any other underglaze would so they will not stick to your kiln shelf or other pots unless you have added a overglaze to them. They can also be combined in any order with underglazes.
Wiping pots after bisquing is not recommended when you are using any underglaze decals as the ink is not set until it has a glaze on top or they are fired to a minimum of cone 6. If you get them wet or rub them after bisque it will smear the images. You can instead take them out side and blow them off if there is a lot of dust on them. Canned air or a compressor is good for this task although with my own pots I don't need to do this step when I glaze them with our rubbing technique that can be seenhere. 
You can use any glaze you like on top but keep in mind the translucency of the glaze will affect how much of the design you see. Even some clear glazes can appear cloudy or milky when applied too thick so consistency is also a concern. I recommend experimenting with some test tiles to get the perfect glaze before glazing a bunch of work. 
I use Cone 5 HF-9 clear zinc free glaze from Amaco (it fires well to cone 6 too). I buy it in premixed gallons so I can brush it on each piece and I fire it to Cone 6 with a 5 min hold at temperature and a slow cool of 150 degrees per hour until it reaches 1800 degrees and then I shut the kiln off and let it cool naturally until about 200 when I crack the lid to peek. 
Any and all! I highly recommend experimenting with different firing temperature and atmospheres to see what feels right for your work. I personally fire to Cone 6 in an electric kiln but have also had lots of fun using our transfers on pots fired in gas reduction kilns and wood fired kilns reaching cone 12. Our designs can also be used in low fire work with an over glaze on top. 
If your final glaze firing temperature will be under Cone 6 to it is important to note that you will need an over glaze on top to seal the designs in and prevent them from rubbing off. It's also worth noting to take care when glazing and handling bisqueware with transfer designs as they can smudge when rubbed or if they get wet prior to the glaze application.